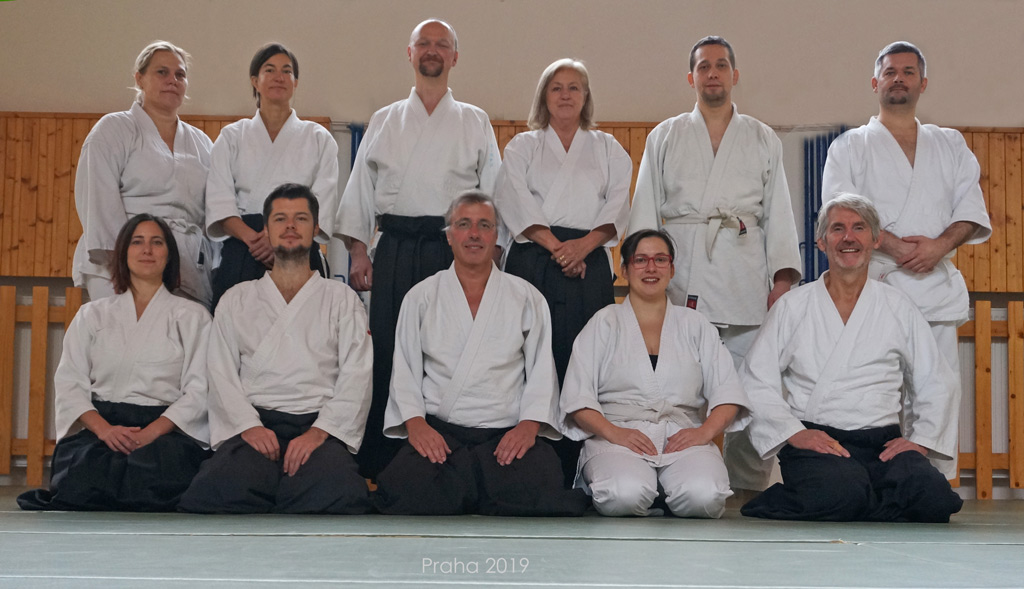 Bernhard Boll Shihan, Prague, 08-10.11.19
Start with practice. New theory follows.
Theory helps and is behind everything, but does not replace practice. There are two ways to practice: start with theory and practice accordingly or start with practice (situations, settings) and develop (new) theory based on one's own practice. Through this notion of reflexive practice theory can be re-established, improved, questioned, etc. which was emphasised during the seminar. The importance of self-discovery and enquiry (which is also reflected in the name Ki no Kenkyukai) is clearly embodied by Shihan Boll and the seminar organiser, Hayek sensei and the open format of the seminar.
Every since I met Hayek sensei at a summer seminar in the Swiss mountains in 2010 and my subsequent move to Vienna in 2013, Prague – the southern distict of Libuš to be more precise – has become a perennial and special place of learning and practice. A community centre and infant school at the centre of a suburb of former communist mass urban housing, "Klub Junior", and its surroundings are serenely quiet on the weekends of the seminars. Hayek sensei's accommodating and generous nature is coupled with the enthusiasm of school caretaker Pani Vankova who greets us heartily, provides us with a sleeping quarters and has often contributed to the Sunday tatami picnic with the best potato pancakes (Bramboracky) imaginable. This time she was preparing for a knee operation and sadly couldn't join. A small familial atmosphere has been built since the annual seminars with Anne and Bernhard were initiated several years ago. This time, along with the Libuš students (Jana, Mikulas, Theresa, Sabi) a regular contingent from Nürnberg also made it (Christian, Claudia).
We arrived with a delay by Regiojet train from Vienna, but still made it punctually for the opening Friday evening class at 8pm. After Kenkotaiso we were immediately tested with Zagi Handachi which was explored in detail. It is impossible to describe exactly how this relationship and how this exercise works. As he said, there is nothing more important than practice. To simplify, a somewhat interesting allusion was made to T'ai Chi wisdom and the "three types of hands":
(1) Stupid hands – useless force and resistance;
(2) Intelligent hands – leading without forcing;
(3) Magic hands – highest expression of ki.
The intensity remained high in the evening as we worked through Tsuzukiwaza 4 (Ryotedori).
Bernhard masterfully elaborated and technically demonstrated a variety of martial forms and theories whilst never failing to be up-to-date on Doshu's teachings. He began many decades ago with "Ki-Jutsu" and later Aikido in the German Aikido Union (Deutscher Aikido Bund) before Shin Shin Toitsu Do and Ki No Kenkyukai International were established in Europe. This diverse experience is fruitful for understanding the current contradistinction and development of "Aikido in the dojo" and "Aikido in real life". Swift shocks of realism for all Uke are par for the course, and always instructive and well-meaning. Moments of humour and hilarity are expedient and frequent. It is fitting that Saturday lunch is traditionally held in a nearby gastropub called "divine comedy".
The programme also included Tsuzukiwaza 1 and 2, Bokken 1, Bokken with Jo 1 and Kenkodo.
We hope to meet Bernhard and Yvette again in February at his former dojo in Hechingen where a date is still to be set. Thanks to Dojo Libuš for organising another seminar!
Bernhard is also the creator of www.toitsu.de and m.toitsu.de, useful and updated resources for ki no kenkyukai aikido students and teachers, including exam programmes, the tsuzukiwaza and a language glossary of relevant Japanese terms in multiple languages.
DE: Bernhard Boll Shihan, Prag, 8. bis 10. November 2019
Mit der Praxis beginnen. Die (neue) Theorie folgt.
Theorie hilft und steht hinter allem, ersetzt aber nicht die Praxis. Es gibt zwei Möglichkeiten zu praktizieren: Mit der Theorie beginnen und dann entsprechend deduktiv üben oder mit der Praxis anfangen (Situationen, Rahmenbedingungen) und  die (neue) Theorie entwickeln, basierend auf der eigenen Praxis. Durch die Praxis kann die Theorie aufgestellt, verbessert, hinterfragt usw. werden, was während des Seminars betont wurde. Die Wichtigkeit der Selbstfindung und des Forschens (was sich auch im Namen Ki no Kenkyukai widerspiegelt) wird von Shihan Boll und dem Seminarorganisator Hayek Sensei auch mit dem offenen Format des Seminars deutlich umgesetzt.
Seitdem ich Hayek Sensei 2010 an einem Sommerseminar in den Schweizer Bergen kennengelernt habe und 2013 nach Wien gezogen bin, ist Prag, genauer gesagt der südliche Bezirk von Libuš, ein steter und besonderer Ort des Lernens und Übens geworden. Klub Junior ist ein Gemeindezentrum und eine Schule im Zentrum eines Vororts kommunistischer städtischer Siedlungen. Die Gegend ist an den Wochenenden der Seminare ruhig. Die zuvorkommende und grosszügige Art von Hayek Sensei ist gepaart mit der Begeisterung der Schulleiterin Pani Vankova, die uns herzlich begrüsst und uns ein Schlafquartier zur Verfügung stellt. Sie trägt auch oft zu dem sonntäglichen Tatami-Picknick mit den besten Kartoffelpuffern (Bramboracky), die man sich vorstellen kann, bei. Diesmal bereitete sie sich auf eine Operation vor und konnte leider nicht teilnehmen. Hier ist eine überschaubare familiäre Atmosphäre entstanden, seit die jährlichen Seminare mit Anne und Bernhard vor einigen Jahren begannen. Diesmal hat es neben den Libuš-Studenten (Jana, Mikulas, Theresa, Sabi) auch ein Stammkontingent aus Nürnberg geschafft (Christian, Claudia).
Wir sind mit Verspätung mit dem Regiojet aus Wien angereist, haben es aber noch pünktlich zur Eröffnung der Freitagabendklasse um 20 Uhr geschafft. Nach Kenkotaiso wurden wir sofort mit Zagi Handachi getestet, was detailliert untersucht wurde. Es ist kaum zu beschreiben, wie diese Beziehung und wie diese Übung funktionieren. Wie er sagte, gibt es nichts Wichtigeres als Übung. Zur Vereinfachung wurde eine doch ganz interessante Anspielung auf die Weisheit von T'ai Chi und die "drei Arten von Händen" gemacht:
(1) Dumme Hände – nutzlose Kraft und Widerstand;
(2) Intelligente Hände – führen ohne zu zwingen;
(3) Magische Hände – höchster Ausdruck von Ki.
Die Intensität blieb am Abend hoch, als wir Tsuzukiwaza 4 (Ryotedori) durcharbeiteten.
Bernhard erarbeitete meisterhaft und demonstrierte technisch eine Vielzahl von Kampfformen und -theorien, ohne dabei die Lehren von Doshu zu vernachlässigen. Er begann vor vielen Jahrzehnten mit "Ki-Jutsu" und praktizierte Aikido im Deutschen Aikido Bund, bevor er sein eigenes Dojo innerhalb von Shin Shin Toitsu Do und Ki No Kenkyukai International in Europa gründen konnte. Diese vielfältige Erfahrung ist fruchtbar für das Verständnis der gegenwärtigen Unterscheidungen und Entwicklungen von "Aikido im Dojo" und "Aikido im wirklichen Leben". Kurze Schocks von Realismus für alle Uke sind selbstverständlich und immer lehrreich und gut gemeint. Momente des Humors und der Heiterkeit sind zweckmäßig und häufig. Dazu passt auch, dass das Mittagessen am Samstag traditionell in einer nahe gelegenen Gaststätte mit dem Namen "Göttliche Komödie" stattfindet.
Das Programm umfasste auch Tsuzukiwaza 1 und 2, Bokken 1, Bokken mit Jo 1 und Kenkodo.
Wir hoffen, Bernhard und Yvette im Februar in seinem ehemaligen Dojo in Hechingen wiederzusehen; der genaue Termin steht momentan noch nicht fest. Vielen Dank an Dojo Libuš für die Organisation eines weiteren Seminars!
Ryan Jepson, Wien